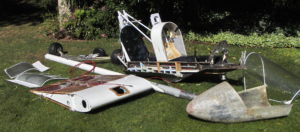 Bruce's personal project is re-building and modifying ZK-KLH, a Shadow B-D microlight. Murray Hagen originally built this aircraft in 1989, alongside its sister CFM kit plane ZK-TTE. After seven years of flying, dogged by many engine failures, one day the Rotax 532 finally gave up. The result was a 'less-than-happy' landing breaking the main landing gear and damaging a wingtip.
During storage one of the big Fiordland earthquakes damaged the wing leading edge, a prop blade was broken and pesky starlings had picked huge amounts of foam out of the centre section ribs. Fortunately Murray was able to supply spare foam, plywood, new wingtips, new main landing gear, a replacement prop (custom built by Brent Thompson) and an unused Rotax 582 engine.
The wing's 1.2m plywood leading edge has now been repaired.  Much of the restoration work on the fuselage and wings has now been completed. The aluminium joining tubes of the tail feathers have been crack-tested – some replacements and reinforcing were neccessary. UHMWPE bushes have been fitted inside the tail boom to stop wear on the tailplane mounting tubes. The tail surfaces have been re-covered with polyester fabric.