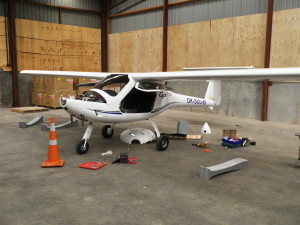 I've been unloading, assembling and generally preparing a carbon-composite Skyleader GP One microlight aircraft for its initial Permit-to-Fly and CAA certification.
This aircraft is owned by SkyFreedom Aviation, a company that my wife and I set up in June to import and sell Skyleader light sport aircraft from the Czech Republic. We hope to sell the GP One trainer to flight schools, aero clubs and individuals.
Over a period of 3 weeks, we calibrated fuel tanks, measured lots of things, checked control systems, ran the engine, etc. The Czech registration marks were removed and the new 'WLB' New Zealand registration applied to the tail boom.
I was very relieved when CAA inspected and approved the GP One to fly.