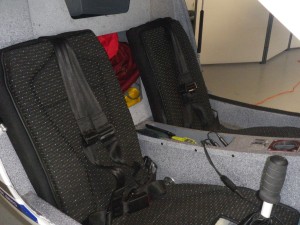 The Skyleader GP One which is SkyFreedom Aviation's NZ demonstrator only had a single storage compartment, so that it was a challenge to pack and access all the items required for long cross-country trips. I have designed and manufactured a series of additional storage spaces to make the GP One more user-friendly.
First up was a lightweight carbon tray in the centre console. This is handy for mobile phone, pens, sunglasses, etc.  The headset sockets are also recessed into this tray, so that the plugs are less likely to be bumped.
The second addition is a 50 litre luggage locker below the existing locker. It fits bulkier items such as jackets, daypack, lifejackets, etc. I used the hi-tech epoxy resin infusion process to manufacture it, which means that the new carbon/foam locker only weighs slightly more than the original fibreglass locker.